Elite & Modern Kitchen Renovations by
IronBuilt, Inc.
Enrich your home with IronBuilt, Inc.'s exquisite modern kitchen renovations. We serve Los Angeles and Kern County, CA, marking 17 successful years in business, deeply rooted in our 40-year remodeling industry experience.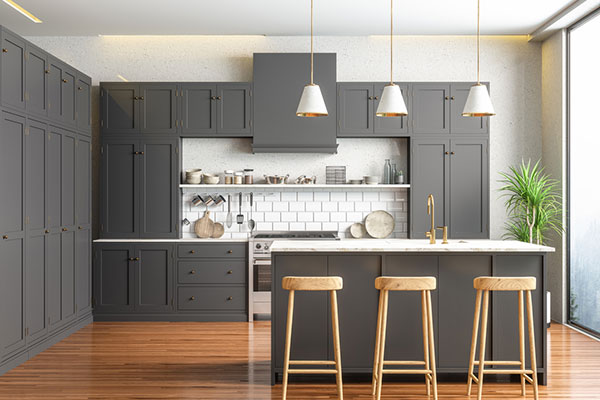 Reinventing Kitchens with Innovation and Artistry
We don't just renovate kitchens; we transform them into extraordinary spaces. Offering a perfect blend of luxurious aesthetics and cutting-edge functionality, our modern kitchen renovations mirror symmetry and innovation that goes hand in hand with your lifestyle.
Here's what we can do for you:
Kitchen Design and Planning: Our kitchen remodeler will work with you to create a functional and aesthetically pleasing kitchen design tailored to your needs and preferences.
Cabinetry Installation and Upgrades: We offer professional installation and upgrades for kitchen cabinets, enhancing both storage capacity and visual appeal.
Countertop Replacement: Our team can replace or upgrade countertops with durable and stylish materials, such as granite or quartz, to transform the look and functionality of your kitchen.
Appliance Installation: We provide expert installation services for kitchen appliances, ensuring they are properly fitted and ready for use in your renovated kitchen.
Lighting and Fixture Upgrades: We can enhance your kitchen's ambiance and functionality by installing modern lighting fixtures and other fixtures, making your space more inviting and efficient.
Unwavering Integrity and Transparent Communication
At IronBuilt, Inc., we take pride in our integrity, building trust through honest and straightforward communication. Being a family-owned company, we offer a personalized touch to each remodeling project, ensuring a fantastic customer experience.
IronBuilt Is Where Imagination Meets Craftsmanship
Our in-house designer turns your vision into reality, tailoring each kitchen remodel design to fit your unique needs and style preferences. From the materials to the finish, we ensure each detail reflects the class of a truly modern kitchen.
Completion On Time, Every Time
We understand the value of your time at IronBuilt, Inc. Our efficient project management ensures your modern kitchen renovations are delivered within the set timeline while meeting the highest quality standards.
The Right Blend of Craftsmanship and Advanced Techniques
We're one step ahead, implementing the latest techniques and innovations. Utilizing state-of-the-art equipment and top-notch materials, our skilled craftsmen can transform your kitchen into a functional masterpiece that not only impresses but also stands the test of time.
Making a Difference with Veteran Discounts and Free Consultations
Honor and respect form the basis of our pillars. We offer special veteran discounts, recognizing their service and dedication to the nation. Furthermore, our free estimates and consultations help you decide on your dream kitchen.
Start Building Your Dream with IronBuilt Today
Call us at (661) 209-1480 today to embark on your renovation journey. We're also available on Facebook. Choose IronBuilt, Inc., and experience excellence in modern kitchen renovations.